Space, man.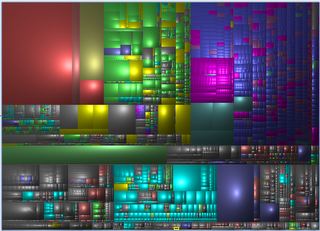 I've got a few contracts that end on 12/31 that I should be wrapping up. And, I'm led to believe Christmas is next week and I've got a bit (ahem) more to do for that.
So, what do I do? I investigate what's using the most space on my hard drive.
The biggest file, in the upper left corner is my VMWare Windows image. The greenish bar to its right is Ubuntu.
The middle section in the top are client database files.
The right most corner is media (i.e., music and movies). Only three movies, can you guess which file blocks?
The green bar running horizontally about half way down is the photo library - presented as a single 'file' in Leopard.
The purplish file in the lower right is the
sleepimage
.
Please keep shiny objects away from me. I apparently have a hard time focusing.